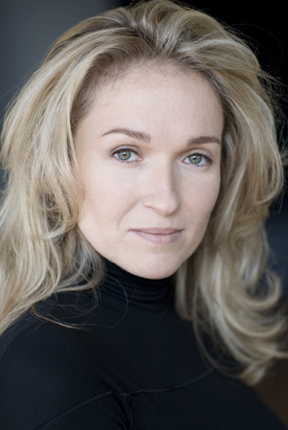 Prizewinner at the Montreal International Music Competition in 2005, the Canadian soprano distinguished herself in Italy the same year winning 1st prize, the public prize and the best foreign singer at the 56th Gian Battista Viotti International Competition.
Her first recording of Rachmaninoff and Liszt songs « Romances » with the pianist Louise-Andrée Baril has received international acclaim.
Whether in concert or recital, Ms. Dionne demonstrates her vocal abilities in repertoire ranging from songs to lieder and opera to oratorio. She has performed with many symphony orchestras such as Montreal Symphony Orchestra, Metropolitain Orchestra, Trois-Rivières Symphony Orchestra, New Brunswick Symphony Orchestra, Orquesta del Nuevo Mundo (Mexico), Moscow Symphony Orchestra and Teatro Regio de Turin Orchestra.
Recent performances for the soprano include the Mozart's Requiem in Saguenay and the Coronation Mass at the Triliarts Festival's first edition in Ontario. She also sang the soprano solo from the oratorio Elijah by Mendelssohn with the UQAM chorus as well as the soprano solo in Beethoven's Missa Solemnis with the Montreal Philharmonic Orchestra – the reviewer wrote « From the Kyrie to the Agnus Dei, the canadian soprano demonstrated agility and remarkable vocal sensibility ». In Europe, she sang the soprano solo in Beethoven's 9th Symphony for the Association Artistique des Concerts Colonne in Paris.
At the opera, Ms. Dionne has received much acclaim for her performances in roles such as Micaëla in Carmen by Bizet (France), as Pamina in Die Zauberflöte by Mozart (Vienna), of Véronique in Véronique by Messager (France), of Donna Anna in Don Giovanni by Mozart (Italy) and Marguerite in Faust by Gounod (U.S.). Closer to home, we heard the soprano in the title role of Adina in Donizetti's Elisir d'amore at the Montreal Italian Week celebrations as well as the role of Françoise in the lyric version of André Gagnon's Nelligan at the Opéra de Québec. The reviewer wrote about her performance « she plays her role to perfection, the voice is powerful and she brings a touch of emotion to this dramatic piece ».
Upcoming Montreal performances include the Brahms Requiem with the Montreal Philharmonic Orchestra and the 4th servant in Opéra de Montréal's production of 'Elektra'.
**************************************************************
Lauréate au Concours Musical International de Montréal, le soprano canadien Chantal Dionne a également remporté un triple triomphe en Italie au 56e Concours International Gian Battista Viotti : 1er Prix, Prix du Public et Prix pour le meilleur candidat étranger.
Son premier disque-récital, « Romances » avec la pianiste Louise-Andrée Baril est un succès international. «Chantal Dionne, soprano lyrique au timbre velouté, aux aigus impeccables, à la ligne de chant jamais heurtée, doublée de pianissimo élégiaque, fait merveille dans ce répertoire. (Rachmaninoff - Liszt, de son disque Romances) » B.N., Codaex, Médan, France.
Que ce soit en récital ou en concert, la soprano a un vaste répertoire lyrique qui varie de l'opéra à la mélodie en passant par l'oratorio. Récemment, nous avons pu entendre Chantal Dionne en tant que soliste invitée lors de trois concerts symphoniques dans le cadre de la première édition du Festival Triliarts en Ontario. Nous avons également pu l'entendre comme soliste dans le Requiem de Mozart au Saguenay sous la direction de Jean-Philippe Tremblay ainsi que dans le solo pour soprano dans la Messe Solennelle de Beethoven avec l'Orchestre Philarmonique de Montréal ; la critique parle de sa prestation comme ayant été remarquable : « Du Kyrie à l'Agnus Dei, la soprano québécoise a démontré une agilité et une sensibilité vocale remarquables et a su animer les multiples ensembles avec l'Orchestre. »
A l'étranger, la soprano acadienne récolte tout autant de succès. Récemment, elle s'est produite avec l'Orchestre Symphonique de Douai en France dans une série de concerts lyriques sous la direction de M. Guy Condette ainsi qu'à Paris, dans le solo pour soprano de la Symphonie no.9 de Beethoven, pour l'Association Artistique des Concerts Colonne.
A l'opéra, Mme Dionne a obtenu des éloges pour ses performances dans les rôles de Micaëla dans Carmen de Bizet, de Véronique dans Véronique de Messsager ainsi celui de Pamina dans Die Zauberflöte de Mozart au Volksoper de Vienne. Au Québec, l'avons entendu à l'Opéra de Québec dans le rôle de Françoise dans la dernière version lyrique de la comédie musicale Nelligan d'André Gagnon. 
Elle s'est produite avec des orchestres tels que : l'Orchestre Symphonique de Montréal, l'Orchestre Métropolitain, l'Orchestre de Trois-Rivières, l'Orchestre de Sherbrooke, le Mc Gill Chamber Orchestra, l'Orchestre Symphonique du Nouveau-Brunswick, l'Orquesta del Nuevo Mundo (Mexico City), l'Orchestre Symphonique de Moscou ainsi que l'Orchestra del Teatro Regio de Turin.
A Montréal, nous pourrons entendre Chantal Dionne au printemps 2016 dans le Requiem de Brahms avec l'Orchestre Philarmonique de Montréal et le Chœur de l'UQAM sous la direction de Pascal Côté et comme la 4 ième Servante dans 'Elektra' avec l'Opéra de Montréal.
REPERTOIRE:
OPERA

BEETHOVEN
Fidelio - Marzelline

BIZET
Carmen - Micaëla
Les Pêcheurs de Perles - Leila

CARON, F.
Les hommes inutiles - Lancolie / Patronne du bordel

DONIZETTI
L'Elisir d'amore - Adina
Il Campanello - Serafina
Don Pasquale - Norina

FLOYD, C.
Susannah  - Susannah / Mrs. Gleaton

GOUNOD
Faust - Marguerite

HUMPERDINCK
Hänsel und Gretel - Mother & Witch

KNEZKOVA-HUSSEY
Les Traversées - Ange

LEHAR
Die Lustige Witwe - Missia

MASSENET
Manon - Manon

MENOTTI
The Telephone - Lucy
Old Maid and the Thief - Laetitia

MESSAGER
Véronique - Véronique

MOZART
Don Giovanni - Donna Anna / Zerlina
Die Zauberflöte - Pamina
Le Nozze di Figaro - Susanna / Contessa
Così fan tutte - Fiordiligi

POULENC
Dialogues des Carmelites - Blanche de la Force

PUCCINI
Gianni Schicchi - Lauretta
La Bohème - Mimì
Turandot - Liù

OFFENBACH
Les Contes d'Hoffmann - Antonia

STRAUSS, J.
Die Fledermaus - Rosalinde

TOMASI, H.
Don Juan de Manara - Girolama

VERDI
Falstaff - Nanetta

WOLF-FERRARI
Il Segreto di Susanna - Susanna

CONCERT

BACH
Jauchzet Gott - Cantata 51
Cantata BWV 5 & 127
Magnificat BWV 243
Johannes Passion BWV 245
Matthaüs Passion BWV 244

BEETHOVEN
Messe en Ut, Op. 86
Missa Solemnis, Op. 123

BRAHMS
Ein Deutsches Requiem, Op. 45

DUBOIS
Les Septs Paroles du Christ

FAURÉ
Requiem

HANDEL
Dixit Dominus
Joshua
Judas Maccabeus
The Messiah
Semele

HAYDN
Mass in time of war
The Creation

MENDELSSOHN
Elijah

MOZART
Exultate Jubilate
Requiem, K. 626
Vesperae Solennes de Confessore

PERGOLESI
Stabat Mater

PUCCINI
Magnificat

RUTTER
Gloria
Requiem

VAUGHAN WILLIAMS
Symphony no. 1, A Sea Symphony

VIVALDI
Gloria, RV. 588

ENGAGED BY:

Association Italienne de Limoges
Circuito Lyrico Lombardo (Italy)
Eglise Historique de Barachois
Ensemble Amati
Festival International de musique de chambre de la Baie des Chaleurs
Jeunesses Musicales du Canada
Opéra de Metz
Opéra de Montréal
Opéra de Québec
Opéra-Théâtre de Limoges
McGill Chamber Orchestra

Nuevo Mundo Orchestra (Mexico)

Orchestre Sinfonia de Lanaudière
Orchestre Symphonique de l'Estuaire
Orchestre Symphonique de Trois Rivières
Orchestre Symphonique du Mont-Royal
Orchestre Symph. du Nouveau-Brunswick
Pro Musica
Productions Chants Libre
Semaine Italienne de Montréal
Société musicale Colonne (Paris)
Société Philharmonique de Montréal
Volksoper (Vienna)
Artist URL:


https://www.micartists.com/chantal-dionne