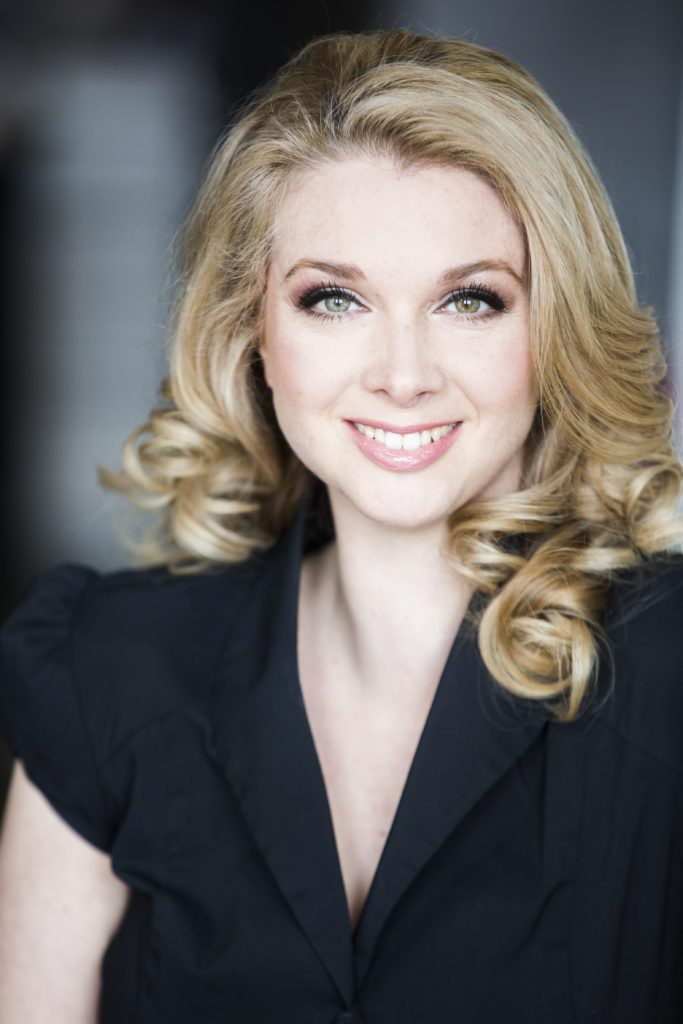 Photo Credit: Karine Lévesque
Following several years of training in classical singing, piano and ballet, the flamboyant and audacious coloratura soprano Raphaëlle Paquette has developed a refined mastery of the repertoire for lyric heroines such as Gilda in Verdi's Rigoletto  at the Quebec City Opera (2017), Marie in Donizetti's La Fille du Régiment and Olympia in Offenbach's The Tales of Hoffmann which she performed at the Opéra Théâtre de Rimouski, Violetta in Verdi's «La Traviata», Rosina in Rossini's «Il Barbiere di Siviglia» and «Armida» in which her Toronto appearance in the title role was qualified by the reviewer as … 'breathtaking'.
Her repertoire includes the following roles: Marguerite de Valois in Les Huguenots performed with Opera in Concert in Toronto, Oscar in Un ballo in maschera at Opéra de Québec, Nella in Gianni Schicchi at Opéra de Montréal, Adele in Die Fledermaus  at the Vermont International Opera Festival, Frasquita in Carmen, Missia and Nadia in The Merry Widow and the Fairy in Viardot's Cendrillon.
From 2004 to 2016, Raphaëlle is the embodiment of Cristal in the operatic version of Luc Plamondon's rock opera « Starmania » which was presented at Opéra de Montréal, Opéra de Québec during the Québec Summer Music Festival, the Quebec Opera Festival and the production was also presented on tour in Asia and France.
Raphaëlle has been regularly invited as guest soloist in a varied repertoire such as the Canteloube's Chants d'Auvergne with the Orchestre Metropolitain du Grand Montréal conducted by Yannick Nezet Seguin, Rossini's «Stabat Mater», Faure's Requiem, Mozart's Coronation Mass, Handel's Messiah, Vivaldi's Gloria, C. Orff's Carmina Burana, T. Dubois's Seven Last Words of Christ, St-Saëns Christmas Oratorio and numerous opera, viennese, baroque and Broadway music recitals with many orchestra around Canada such as the Sherbrooke Symphony Orchestra, Sinfonia de Lanaudière Orchestra, Longueuil Symphony Orchestra, l'Orchestre de Chambre des Seigneuries,  and in Tunisia (north Africa). Recently she presented her new show «R» on tour throughout Quebec and created the refreshing and glittering duo Cheek 2 Cheek with guitar virtuoso Francis Tétu. 
Raphaelle is a winner of numerous prizes such as a Scholarship from the Jacqueline Desmarais Foundation and the Music and Youth Canada Foundation, the French Music of Canada competition, the Jeunes Ambassadeurs Lyriques competition and the canadian final of the prestigious Altamura/Caruso International Voice Competition.
******************************************
Artiste flamboyante et audacieuse, Raphaëlle possède une solide formation en chant classique, en piano et en danse. Elle brûle les planches par l'interprétation étourdissante des héroïnes du répertoire lyrique notamment dans le rôle de Marie dans « La fille du régiment », d'Olympia dans les « Contes d'Hoffmann », de Rosina dans « Il Barbiere di Siviglia », de Violetta dans « La Traviata », d'Armida de Rossini, de Marguerite de Valois dans « Les Huguenots », de Oscar dans «Un ballo in maschera», de Nella dans « Gianni Schicchi » et d'Adele dans « Die Fledermaus » à travers le Canada.
En 2015 elle présente dans plusieurs salles du Québec, son spectacle « R » accompagné par son complice Jérémie Pelletier, qui reçoit une critique dithyrambique ! Cette même année elle crée le duo Cheek 2 Cheek en compagnie du guitariste Francis Tétu, qui séduit par son originalité et sa virtuosité. 
De 2004 à 2010, Raphaëlle incarne le rôle de Cristal dans « Starmania Opera » de Plamondon - Berger au Québec, en Europe et en Asie. Elle reprendra cet été 2016, le rôle de Cristal au Festival d'Opéra de Québec.
De plus Raphaëlle se produit souvent en concert notamment dans les Chants d'Auvergne sous la direction de Yannick Nézet Séguin, le Requiem de Fauré, la Messe du Couronnement et l'Exultate Jubilate de Mozart, le Messie de Handel, le Gloria de Vivaldi, le Stabat Mater de Rossini, le Carmina Burana de C. Orff, Les sept paroles du Christ de T. Dubois, le Roi David d'A. Honegger, le Ecce cor meum de Paul McCartney, l'Oratorio de Noël de St-Saëns et plusieurs concerts d'opéra, de musique viennoise et Broadway avec l'Orchestre Symphonique de Sherbrooke, l'Orchestre Symphonique de Longueuil, la Sinfonia de Lanaudière et son chef Maestro Laforest, l'Orchestre de chambre des Seigneuries, ainsi que sous la baguette de Maestro Lavigueur, de James Copland et plusieurs choeurs québécois.
Elle est gagnante du Concours de musiques françaises du Canada, du Concours National des Jeunesses Musicales du Canada, du Concours des Jeunes Ambassadeurs lyriques et du premier prix canadien au prestigieux Concours International de chant Altamura/Caruso (2011) et boursière de la Fondation Jacqueline Desmarais et de la Fondation des Jeunesses Musicales du Canada.
REPERTOIRE:
OPERA

BELLINI

Elvira – I Puritani

Giulietta – I Capuleti e i Montecchi

BERNSTEIN

Cunegonde – Candide

BIZET

Frasquita – Carmen

DONIZETTI

Adina – L'Elisir d'Amore

Linda – Linda di Chamounix

Marie – La Fille du Régiment

Norina – Don Pasquale

GOUNOD

Juliette – Roméo et Juliette

Mireille – Mireille

LEHAR, F.

Nadia – La Veuve Joyeuse

Missia – La Veuve Joyeuse

MASSENET

Sophie – Werther

MEYERBEER

Marguerite de Valois – Les Huguenots

MOZART

Papagena – Die Zauberflöte 

Susanna – Le nozze di Figaro

OFFENBACH

Eurydice – Orphée aux enfers

Olympia – Les Contes d'Hoffmann 

Antonia – Les Contes d'Hoffmann

PUCCINI

Lisette – La Rondine

Musetta – La Bohème 

Nella – Gianni Schicchi

ROSSINI

Armida – Armida

Rosina – Il barbiere di Siviglia 

Semiramide – Semiramide

STRAUSS, J.

Adele – Die Fledermaus

STRAUSS, R.

Sophie – Der Rosenkavalier

Zerbinetta – Ariadne auf Naxos

THOMAS, A.

Titania – Mignon

Ophélie – Hamlet

VERDI

Gilda – Rigoletto

Oscar – Un Ballo in Maschera 

Violetta – La Traviata 

CONCERT

BACH

Cantate 103         

Magnificat 

Cantate 51

Cantate 68      

CANTELOUBE

Chants d'Auvergne

DUBOIS

Les sept paroles du Christ

FAURÉ            

Requiem   

HANDEL         

The Messiah         

Dixit Dominus

Cantate 106 

Psalm 112

HONEGGER, A.

Le Roi David

JENKINS

Requiem

McCARTNEY, P.

Ecce cor meum

MOZART

Messe du Couronnement     

Exultate Jubilate             

Laudate dominum     

Davidde Penitente

ORFF C.            

Carmina Burana

ROSSINI

Stabat Mater

SAINT-SAËNS 

Oratorio de Noël

SCHUBERT

Der Hirt auf dem Felsen

Messe en Sol

VIVALDI


Gloria

VIGNEAULT G.

La Grand Messe

ENGAGED BY:

Opéra de Montréal

Opéra de Québec

Opera in Concert de Toronto

Opéra Théâtre de Rimouski

Société d'Art Lyrique de Chicoutimi 

Vermont International Opera Festival (USA)

Capital City Opera (Ontario)

Orchestre Symphonique de Montréal                    

Orchestre Symphonique de Québec

Orchestre Symphonique du CNA

Orchestre Métropolitain du Grand Montréal

Orchestre Symphonique de Séoul 

Orchestre de la Francophonie Canadienne

Orchestre Symphonique de Sherbrooke

Orchestre Symphonique de Longueuil

La Sinfonia de Lanaudière

Orchestre Amati 

Orchestre Impérial

Ensemble Vox Luminosa

Choeur Bella Voce

Ensemble Polymnie

Ensemble Polyphonique

Orchestre de Chambre des Seigneuries
Artist URL:


http://www.micartists.com/raphaelle-paquette