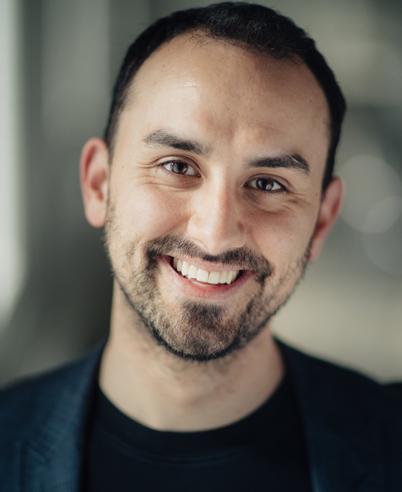 Christopher Dunham is a native of Niagara Falls, Ontario and has captivated audiences with his lyric baritone voice across Canada and as far away as the Adriatic coast of Italy.
A recent graduate from L'Atelier Lyrique de l'Opèra de Montréal, his roles include: Figaro in The Barber of Seville, Mercutio in Roméo et Juliette, Escamillo in Carmen, Don Giovanni, Eisenstein in Die Fledermaus, Dandini in La Cenerentola, Schaunard / Marcello in La Bohème and the Conte d'Almaviva in Le Nozze di Figaro.
Recently, Christopher was soloist in Handel's Messiah with the McGill Chamber Orchestra and in Beethoven's 9th with the Société Philharmonique de Montréal. He performed the role of Schaunard in Opèra de Montréal's production of La Bohème. Included in his upcoming engagements are the Corporal in La Fille du Regiment with Atlanta Opera, Argante in Pacific Opera Victoria's new production of Rinaldo, Escamillo (Carmen) with Opéra de Montréal, with more engagements to be announced later this year.
Christopher is a two year recipient and winner of the Jaqueline Desmarais Foundation For Young Canadian Opera Singers and the Jeunesses Musicales du Canada's Young Mentorship Prize.
*********************************
Christopher Dunham originaire de Niagara Falls, Ontario, a su avec sa voix lyrique captivée des auditoires à travers le Canada et jusqu'à la côte Adriatique en Italie. Diplômé de l'Atelier Lyrique de l'Opéra de Montréal, ses rôles incluent Figaro (Barbier de Séville), Mercutio (Roméo et Juliette) Escamillo (Carmen), Don Giovanni (Don Giovanni), Eisenstein (Die Fledermaus) et Dandini (La Cenerentola).
Ces prochains engagements comprennent: Giorgio Germont dans La Traviata avec Jeunesses musicales Canada, Le Messie de Handel avec l'Orchestre de Chambre de McGill, Schaunard dans La Bohème de Puccini avec l'Opéra de Montréal, et Escamillo dans Carmen avec le Nickel City Opera à Buffalo, New York.
VIDEO CLIPS / EXTRAITS VIDÉO
Critical Acclaim
"Baritone Christopher Dunham was amazing as Argante; vocally he was incredibly strong, without losing any weight from his voice even in the difficult coloratura passages that he navigated so well. His characterization of the villain was both menacing and comedic in equal measure, and his seduction of Almirena was great, but his on-again/off-again relationship with Armida was incredibly funny."
Rinaldo, Pacific Opera Victoria
"It was a triumph! This was mainly due to someone called Christopher Dunham, who sang the role of the barber, Figaro. Possessed of an enormous baritone voice that he used with great musicality and intelligence, he proved he could not only sing like a god but act brilliantly, dance, play the guitar..."
- Hugh Fraser
"Christopher Dunham's Count Almaviva sang and acted his way with great gusto..."
- Hugh Fraser
"Vocally powerful and dramatic Baritone..."
- Opera Canada
"Le rôle de Sander (père de Zémire), très exposé, a vu Christopher Dunham s'en sortir fort bien."
- Le Devoir