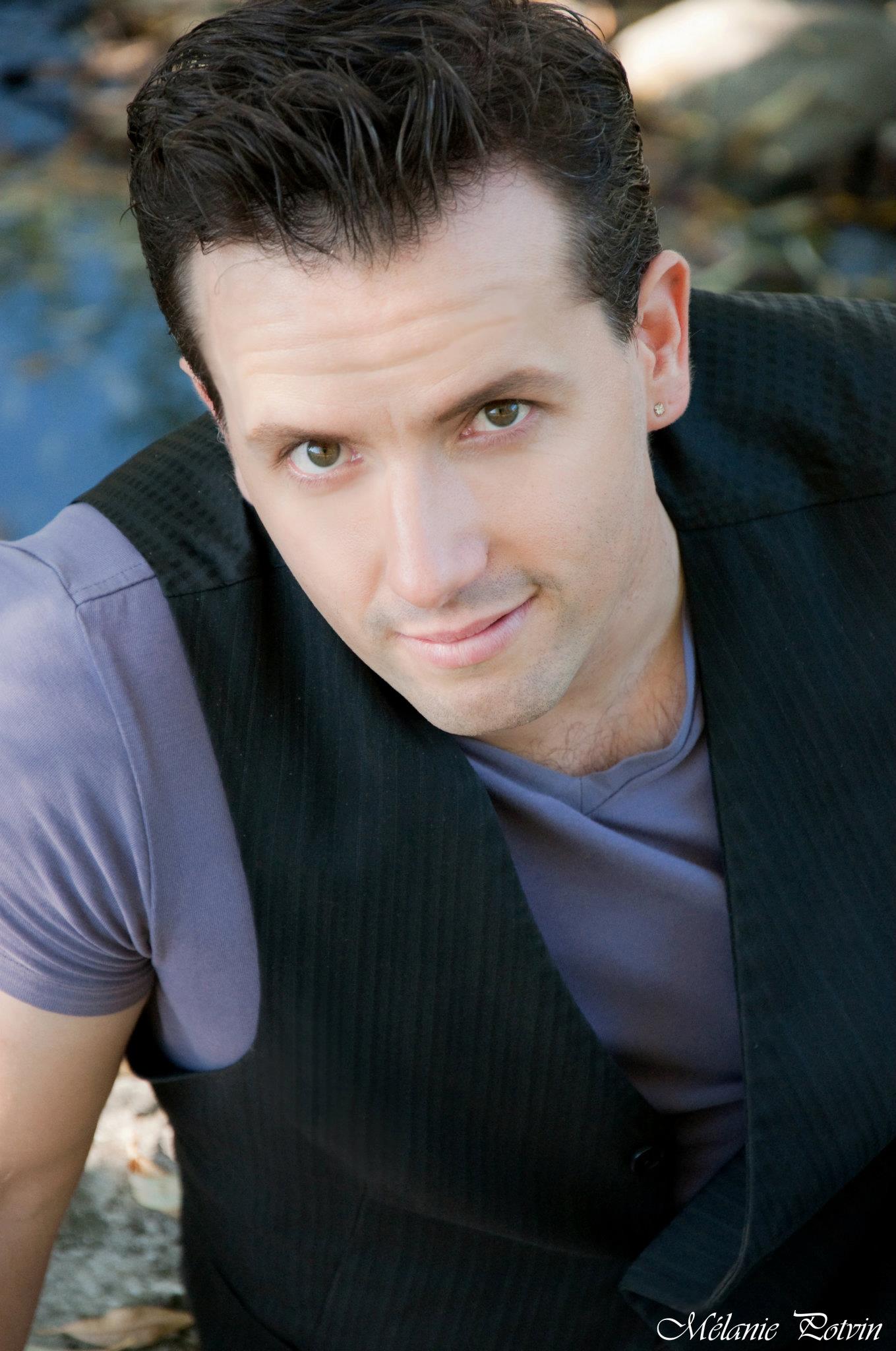 Photo Credit: Melanie Potvin
Originally from Saguenay, the tenor Richard-Nicolas Villeneuve now resides in  Montreal and continues his vocal studies with sopranos Monique Pagé and Aline Kùtan.
Richard-Nicolas is an extremely versatile performer with highly praised acting skills and possesses solid experience as a dancer.   The flexibility of his voice allows him to distinguish himself in opera, operetta, musical theatre, french art songs and also in the interpretation of popular songs.  
His varied repertoire includes : John Styx and Mercure / "Orphée aux Enfers" (Offenbach), Raflafla / "Les Dames de La Halle" (Offenbach), Babylas / "Monsieur Choufleuri" (Offenbach), le Duc de Mantoue / "Les Brigands" (Offenbach), Frantz / "Les Contes d'Hoffman" (Offenbach),  Charles Valentine Clark / "Titanic" (Yeston), Remendado / "Carmen" (Bizet), Spoletta / "Tosca" (Puccini), Ziggy / "Starmania" (Berger) and Tony / "West Side Story" (Bernsetin).
He is the recipient of a number of grants and awards and was a nominee in the 'Outstanding Supporting Actor' category at the Midtown Theatre Festival in New York for his performance as Miles Hendon in the "Prince and the Pauper".
REPERTOIRE:
OPERA

BIZET
Carmen - Remendado

DONIZETTI
Lucia di Lammermoor - Arturo

GOUNOD
Roméo et Juliette - Benvolio/Tybalt

GRÉTY
Zémire et Azor - Azor/Ali

LEONCAVALLO
i Pagliacci - Beppe

MENOTTI
The Consul - Nika Magadoff (The Magician)

MOZART
Le Nozze di Figaro - Don Basilio/Curzio
Die Zauberflöte - Monostatos

PUCCINI
Madama Butterfly - Goro
Tosca - Spoletta

OFFENBACH
Les Brigands - Antonio/Baron de Campotasso/Compte de Gloria-Cassis/Duc de Mantou
Monsieur Choufleuri - Babylas
Mesdammes de la Halle - Croûte-au-pot
Les contes d'Hoffmann - Frantz
La grande Duchesse de Gerolstein - Fritz/Prince Paul
Pomme d'Api - Gustave
La fille du tambour major - Griolet
La vie Parisienne - Le brézilien/Frick
La Périchole - Piquillio
Orphée aux enfers - Pluton/John Styx/Mercure
Docteur Ox - Ygene

STRAUSS, J.
Die Fledermaus - Alfred

STRAUSS, R.
Ariadne auf Naxos - Tanzmeister

VERDI
Rigoletto - Borsa
La Traviata - Gastone

MUSICAL THEATRE

BERNSTEIN
West Side Story - Tony

COCCIANTE
Starmania - Ziggy

MENKEN
Beauty and the Beast - Lumière/Cogsworth

SALVIA
Le prince et le pauvre (The Prince & the Pauper) - Gustave/Miles Hendon

SCHÖNBERG
Les Misérables - Marius/Enjorlas

YESTON
Titanic - Charles Valentine Clark

ORATORIO

SAINT-SAËNS
Oratorio de Noël, op.12

FRENCH MELODY

Bizet
Chausson
Debussy
Daunais

 

Fauré
Gounod
Hahn
Mathieu

ENGAGED BY:

Festival Opéra de St-Eustache
Société d'art lyrique du Royaume - Québec
Opéra Bouffe du Québec
Opéra de Rimouski
Artist URL:


http://www.micartists.com/richard-nicolas-villeneuve